Low Income Apartments Lansing MI
The Lansing Housing Commission: What We Do
The Lansing Housing Commission (LHC) is a Public Housing Agency (PHA) that provides rental housing units and rental assistance to families. We strive toward a brighter future for our residents by providing them a quality standard of housing while making it affordable in their journey to become financially independent. We invest in people by providing more than just housing; we also connect people with opportunities and on-site resources such as GED programs as well as outreach programs that assist with health and quality of life issues. We also provide summer youth activities, which include educational experiences and athletic programs to keep them enjoying, participating and growing in the Lansing community.
The Lansing Housing Commission has partnered with area agencies to determine the need for eviction prevention funds due to the pandemic.
Please take a brief moment to complete our survey located on the HCV Portal page.
An Important Message From the Lansing Housing Commission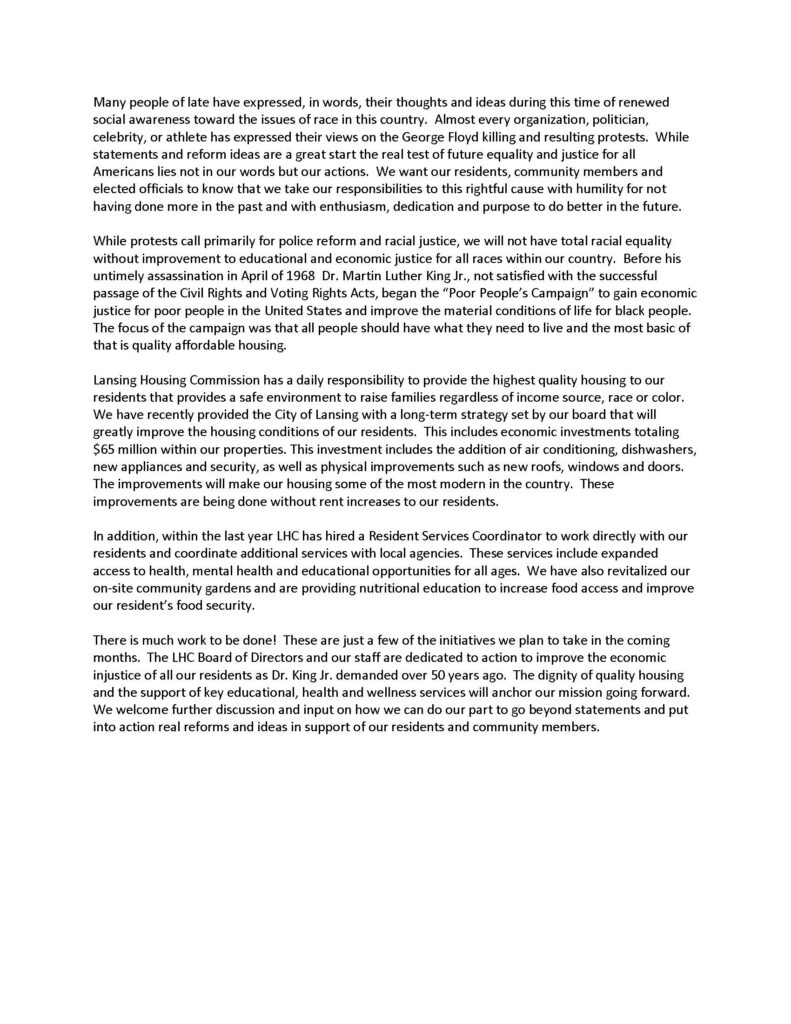 The LHC will compassionately deliver healthy, affordable, safe, quality housing options without discrimination with exceptional customer service while meeting high-performance standards. We manage 4 Asset Management Properties (AMPS)/Communities, including over 200 scattered-site single-family units, 4 townhouse developments, and one high-rise building for a total of 834 units and administer over 1,600 Housing Choice Vouchers.
The Lansing Housing Commission's Housing Choice Voucher Program helps to make Housing Assistance Payments for qualified households. As a participant in the program, Voucher Holders are able to have access to safe, affordable, housing in a neighborhood of their choice.
For general property inquiries, please click below.
Existing Resident RAD Inquiry
Existing residents use this form to submit specific questions regarding your RAD conversion.  – then please click below.
New investment and renovation will impact four large communities of Hildebrandt Park, LaRoy Froh, Mount Vernon Park, and South Washington in the near future. A HUD sponsored program named
Read More »
Primary Communities Served